Salsa, Chile de Arbol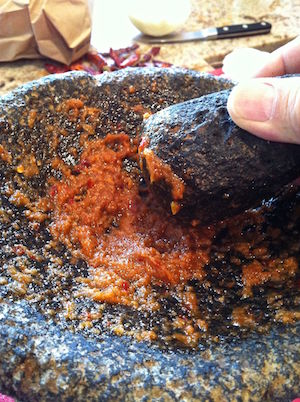 When you want an aromatic salsa on the table, use this Chile De Arbol.
Native Mexican, of course, its flavor is similar to that of the Serrano.  But unlike the Serrano, chile de arbol is used mainly in its dried form.  The name "chile of a tree," does not mean that the chile grows on a tree but merely implies that the chile plant is taller than other chile plants.   Also called the contracted, "Chile Arbol" all over Texas, it is one of the most commonly used chiles in table salsa and, as you'll find in the recipe below, has a delicious taste, enticing aroma, and vibrant red color.
Salsa Recipe, Chile De Arbol: (makes 1 cup)

Adapted from the award-winning book, "Truly Texas Mexican: A Native Culinary Heritage" published by Texas Tech University Press
Ingredients:
1 Chile de Arbol
1/8 tsp salt
1/2 Tbs white onion, diced
2 roma tomatoes, canned or fresh, roughly cut up
Method:
1. Place the chile de arbol, salt and onion in a molcajete and grind to a smooth paste
2. Add the tomaotes and smash to your heart's content, blending all the ingredients. Enjoy!
In 3 minutes I made the salsa this morning for a pronto breakfast.
Sometimes when you rush to work you have time only to throw some eggs on a skillet, brown some sausage and heat a tortilla.  Well, this salsa perks up the morning, and that always faithful flour tortilla makes this speedy breakfast complete and vivifying.


NOTE: If you found my article helpful, I invite you to follow me on Twitter, Instagram and Facebook, or subscribe below for updates (I'll email you new essays when I publish them).
---
---